The UNBC Northern Undergraduate Student is facing a period of deep austerity as it struggles to balance its books.
An audit has found that the group owes $100,000 to BC Transit over the Upass, due to a historical mismanagement of funds stretching back several years.
For example, VP of Finance Eric Depenau says in 2012 the organization agreed to tie student fees to the CPI, or inflation, "and through communication errors for four years that wasn't implemented between ourselves and the university. It's costing us anywhere from $30-50,000, looking at our projections."
Depenau says they are also still working to repay another $100,000 loan, which was approved at an AGM or through a referendum in 2012.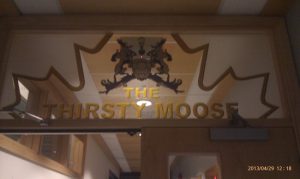 The Thirsty Moose Pub has only ever turned a profit once, in a year where they had no food and beverage manager salary to cover. Depenau says prices are a going and up, and the hours of operation will be adjusted.
"The changes that have been put in place… are showing a positive trend, unfortunately at this time that positive trend isn't going outpace expected losses – last year the Moose had a $40,000"
Depenau says it is entirely possible that the Moose could be leased out to a private operator if they cannot turn the business profitable.
First reported by CFUR, other changes will see current tenants such as CFUR, the Northern Pride Society and Over the Edge begin to be charged rent. The events calendar has also been reworked.
General Manager Duncan Malkinson will also be taking a voluntary 20% pay cut, and the board will cut their stipends by 7.27%.
Depenau says the voluntary cuts show the leadership group's dedication to the organization, and that they remain optimistic they will be able to pay off their debt and re-right the ship.
"It will be a sustainable organization, with significant assets and we will be able to go forward to service the students of UNBC at all of our campuses in a much more sustainable and holistic way."