Prince George City Council decided to increase the city's financial investment into public transportation along Highway 16 from one year to five at last night's budget meeting.
Council initially planned to test the waters with a one-year commitment but decided to lengthen it after a request from the Regional District of Bulkley-Nechako. The short-term investment would've left the future of the service unstable, especially after the City of Prince Rupert opted out of the plan last month. All of these were factors in the decision, according to Mayor Lyn Hall.
"We didn't want to see it fall apart. We really looked at the one-year commitment just as a test, we had other conversations after we made that decision and we're pretty comfortable with where we're at right now."
Each community's contribution is based on a per capita formula and will cover operational expenses. Being the biggest community along the corridor, Prince George's annual $50,000 investment is the largest of all.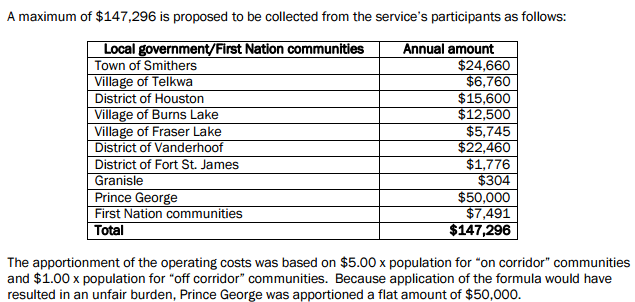 With this service, traveling along the highway will be much safer. Those who can't afford a train, coach ticket or car won't have to hitchhike. Councillor Susan Scott says someone's financial situation shouldn't jeopardize their safety.
"We need to better equip people who need to come here for appointments or even if they want to come and shop for the day, to have a safe, reliable way to get home again."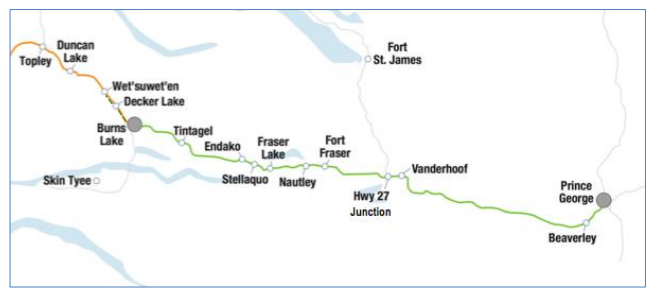 The provincial government announced back in June it will invest $2.4 million over three years to cover the service's capital costs and $1.5 million over two years for more webcams and bus shelters along the corridor.
The five planned stops in Prince George are Westgate Mall, Pine Centre, Spruceland Mall, Prince George Hospital and Downtown.
The proposed route would run on Tuesdays, Thursdays, and Saturdays. There is no start date for the local service yet. The Smithers-Moricetown leg of the corridor began service on Monday.