The Prince George Cougars are heading to the WHL playoffs for a third straight season, punching their ticket with a convincing 5-2 victory over the Edmonton Oil Kings.
In front of more than 5,800 strong at the CN Centre, the Cats finished February on a high note in winning their 40th game of the season.
RECAP: THIS IS '40'

The Cougars 40th 'W' also clinched a playoff spot in a Friday over Edmonton.

MORE: https://t.co/h9eiLIXNOk pic.twitter.com/XLb7t7DRfD

— PG Cougars (@PGCougars) February 26, 2017
Defenceman Josh Anderson says although it's been a disappointing month for his team, he was happy to end with a win for the fans.
"They've been great even in our struggles. February wasn't really our best month, which is why there's still plenty of improvement that can be done within our offensive system. You got to keep working in order to keep playing."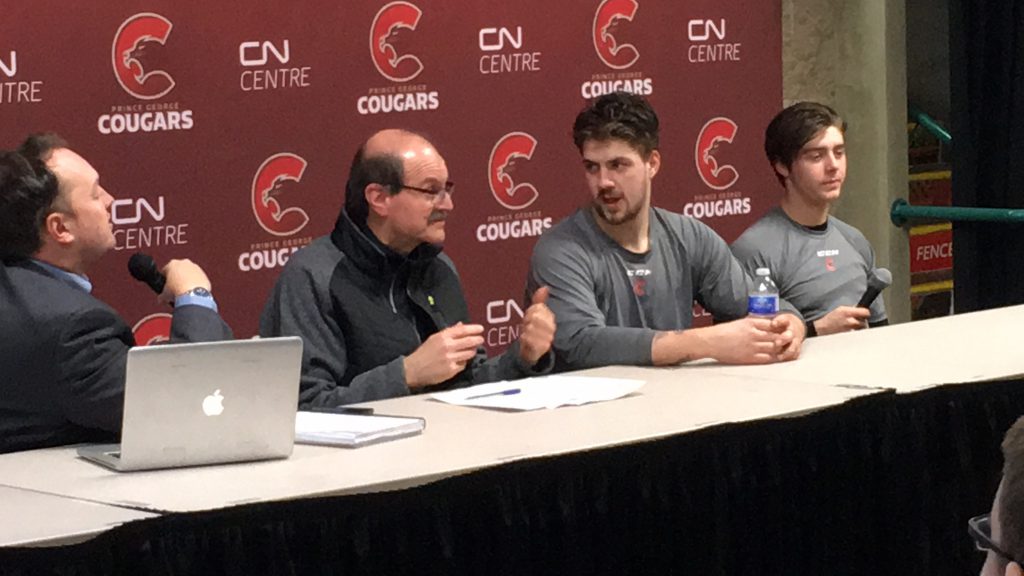 Prince George accomplishes this feat for only the third time in their 23-year franchise history, sweeping the weekend series with the Oil Kings as well.
Forwards Jesse Gabrielle and Radovan Bondra each recorded three-point performances; Gabrielle scored two goals, including the game-winner with 4:43 left in the middle frame, while assisting on Bondra's lone goal 6:37 into the third period.
Jared Bethune and Josh Curtis were the other scorers for the Cougars, while Edmonton's pair came from Connor McDonald in the first and Tyler Robertson in the second.
Prince George netminder Nick McBride made 31 saves en route to his 13th win of the year, while on the other end of the arena, 42 shots were halted by Edmonton's Josh Dechaine.
Gabrielle, Bondra, and Bethune were named the first, second, and third stars of the night respectively.
Anderson adds playing against the Oil Kings and winning is always a positive booster.
"With Edmonton, I don't know what it is, but offense isn't really a huge worry with them. You just need to make the most out of it."
Prince George now leads the BC Division by five points thanks to regulation losses by the Kelowna Rockets and the Kamloops Blazers Saturday night.
Anderson says Kelowna is a good building to play in at this point in this season.
"We need to prepare to play every shift no matter what, even if you're sitting on the bench. Our guys need to be prepared, it's as simple as that."
The Cougars face-off with the Rockets Wednesday, March 1st at 7:05PM.
HIGHLIGHTS:
HIGHLIGHTS: COUGARS 5 – OIL KINGS 2

WATCH: https://t.co/CSTG73rlAA pic.twitter.com/Rs2K6oTlhC

— PG Cougars (@PGCougars) February 26, 2017