UPDATE: 6:30 pm
UPDATE: 5:30 PM
BC Hydro has released this message: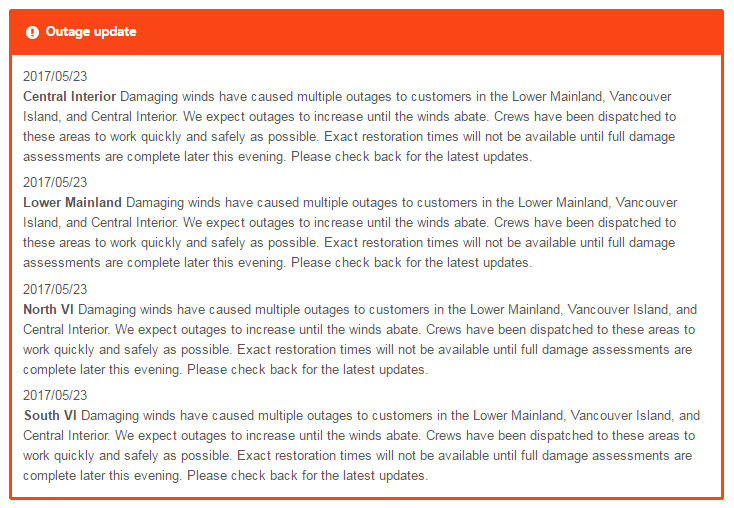 UPDATE: 5:15 PM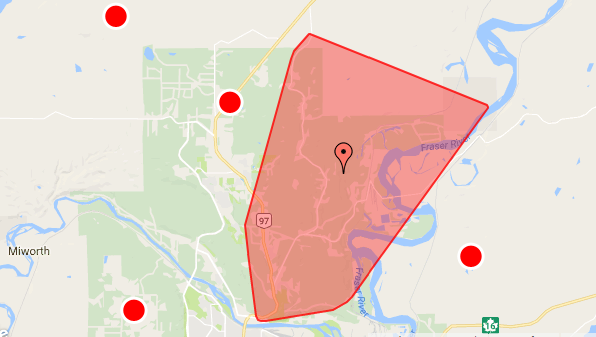 BC Hydro now reports eight spots in the city. The northeast area of the city has 1518 people without power. Crews were sent over there before 4:45 PM.
The area east of that (East of ABERDEEN RD, North of MIDLAND RD) still has no crew assigned to it. 587 people are still without power.
The area (West of FOOTHILLS BLV, South of OTWAY RD) still has 174 homes in the dark. Crews are not assigned.
BC Hydro is on scene in the Hart, where a power line was downed and affected 64 people.
The 4700 block CONTINENTAL WAY is out, affecting five or fewer people. No one is assigned.
A wire is down 12100 – 13500 block SILVER RD, 21700 block W NO 16 HWY. 10 people are affected, no one is on site.
A tree is down across wires in an area west of FERGUSON LAKE RD and north of RASPBERRY RD. Nine people are without power and crews are on site.
163 people east of Highway 97, Buckhorn Lake Road area are without power. No one is assigned there.
Two other spots outside the city (Eaglet Lake and Summit Lake areas)  are without power, affecting nearly 250 people. Crews are both headed there.
UPDATE: 4:15 PM
BC Hydro crews are headed to the Hart to fix the downed wire. Workers are not yet assigned to the other outages.
ORIGINAL STORY:
This afternoon's rain has caused nearly blackouts across the city.
BC Hydro reports a windstorm has knocked power out for 174 homes west of Foothills Boulevard and south of Otway Road. Power went out at 3:35 PM. Crews are not yet assigned to this situation.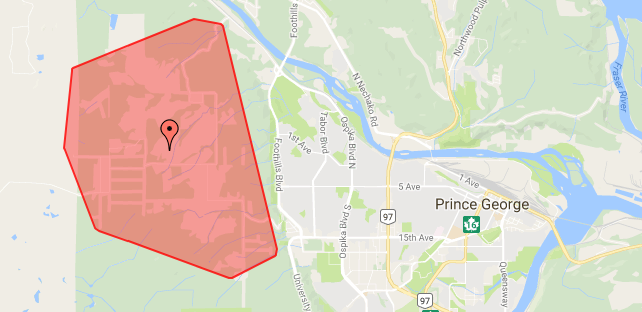 Another 587 customers in an area east of Aberdeen Road and north of Midland Road have been without power since about 3:40 PM. Details are under investigation. As of 4 PM, there are no crews assigned to this incident.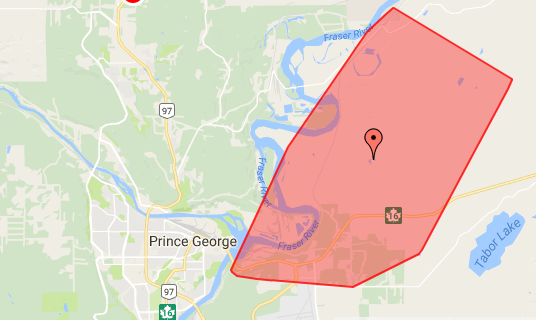 A downed wire in the Hart has another 64 homes north of Glendale Drive and southeast of Highway 97 in the dark. That happened at 3:36 PM, crews aren't assigned there yet either.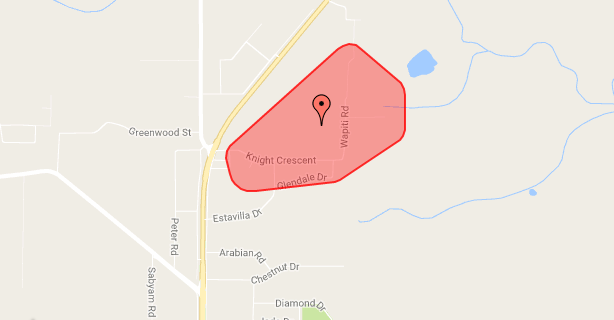 BC Hydro hasn't yet given a time frame as to when power will be turned back on.