UPDATE, 7:25 pm: BC RCMP Communication Services have issued these urgent instructions regarding the Williams Lake evacuation.
An evacuation order for the City of Williams Lake has officially been ordered due to threats to the highways leaving the city.
For people leaving Williams Lake please note that the evacuation route is Highway 97 south to Highway 24. Motorists must turn east on Highway
24 and continue to Highway 5 to Kamloops. Please follow all police directions.
Please be advised that vehicles cannot stop in 100 Mile House.
The RCMP encourages all motorists to drive responsibly.
For those that cannot drive there are muster points throughout Williams Lake they are:

●       Glendale School 4100 Mackenzie Avenue North
●       Comer Pub Parking Lot 2015 MacKenzie Ave North
●       Columneetza High School Parking Lot 1045 Western Avenue
●       BC Hydro Parking Area 835 Second Ave North
●       WLSS High School 640 Carson Drive
●      Save-On-Foods Parking Lot 730 Oliver Street
●       Overlander Hotel Parking Area 1118 Lakeview Crescent
●       Tourism Discover Centre 1660 Broadway Avenue South
●       Church Parking Lot 26 Woodland Drive
●      Golf Course Parking Lot 104 Fairview Drive
●       Church Parking Lot 377 Hodgson Road
●       Across the Wal-Mart Park 1265 South Lakeside Drive
●      Kwaleen Elementary Parking Lot 1727 South Lakeside Drive
Original Story, 6 pm:An Evacuation Order has been issued for Williams Lake and the following areas in the Cariboo Regional District:
All areas east of the Fraser River from the existing evacuation order at Soda Creek to 9km south of the Sheep Creek Bridge, including English Road
Directly east to the southern end of Chimney Lake, continuing east to Wright Station Road at the north end of Lac La Hache
All areas west of Highway 97 from Wright Station Road to the Williams Lake City limits, north along Highway 97, including all fringe areas of the City of Williams Lake including the areas of Fox Mountain, Pine Valley, Commodore Crescent, Glendale, Wildwood, Bull Mountain and Deep Creek not already evacuated, to the exiting evacuation order area at Soda Creek.
"This means that all individuals in the City and the above areas must evacuate immediately," said the City of Williams Lake and Cariboo Regional District.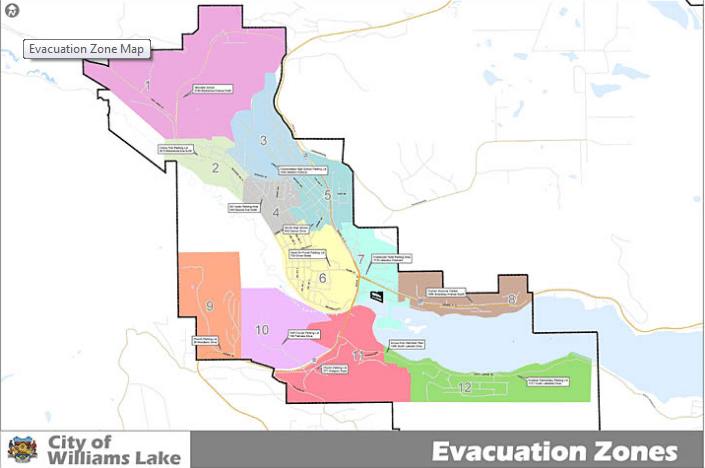 Follow Highway 97 South to Highway 24 (South of 100 Mile House); follow Highway 24 to Little Fort; turn right onto Highway 5 at Little Fort and continue to Kamloops and register at the ESS Centre located at Thompson Rivers University (TRU) located at 805 TRU Way, in Kamloops.
If you have questions about locating an ESS Reception Centre please call 1 (800) 585-9559.
The City of Williams Lake has activated 12 zones within its boundaries, each of which has a muster point.
There are no muster points in any of the surrounding areas.
Residents in these areas who are unable to self-evacuate must make their way to a muster point in the City immediately as buses departing the City cannot wait indefinitely.
If residents are unable to get to a muster point, please call the RCMP at (250) 392-6211 immediately.
If you do not call, there is no way to know that you require assistance.
If you have already self-identified to the EOC and you are unable to travel to a muster point, please shelter in place until help arrives.
Evacuation Muster Zone Maps and other emergency information are available on the City's website.
When you evacuate …
Turn off water, gas, and electricity, if time
Take an emergency survival kit with you (eg. battery powered radio, flashlight, water, food, warm clothing)
Take identification and prescription medicine for your family (and pets)
Listen to the radio and follow instructions from local emergency officials
Lock up your home
Follow the specified routes! Don't take shortcuts as you could wind up in blocked or dangerous areas
If you have time, leave a note telling others where you are going.
Evacuation ORDER issued for all of Williams Lake. Please leave your home immediately. Hwy 97 South is evacuation route. Be safe!

— City Williams Lake (@CityWL) July 16, 2017