All of the evacuees in lodging – including tents – at the College of New Caledonia are moving to UNBC today and joining evacuees already set up at the Charles Jago Northern Sport Centre. The city says it's doing this to better provide services to those in need. About 65 people and 30 tents are making the move. The Emergency Reception Centre will still be at CNC to provide evacuee registration, the referral renewals, and government services.
Just over 700 evacuees have registered to receive group lodging thus far, but the total number of people receiving staying at NSC is about 180 (including the arrivals today from CNC).
Those in need of transportation can access shuttle buses. The City is also providing evacuees with boxes and crates for their belongings, as well as detailed instructions about the move.
This consolidation began early this morning and should be done today.
LHEIDLI T'ENNEH 'HOST FIRST NATION' ONCE AGAIN
Lheidli T'enneh Elders Veronica Seymour and Albert Chingee are among those volunteering their time and resources this week. One of the responsibilities has been preparing treat bags for evacuated children.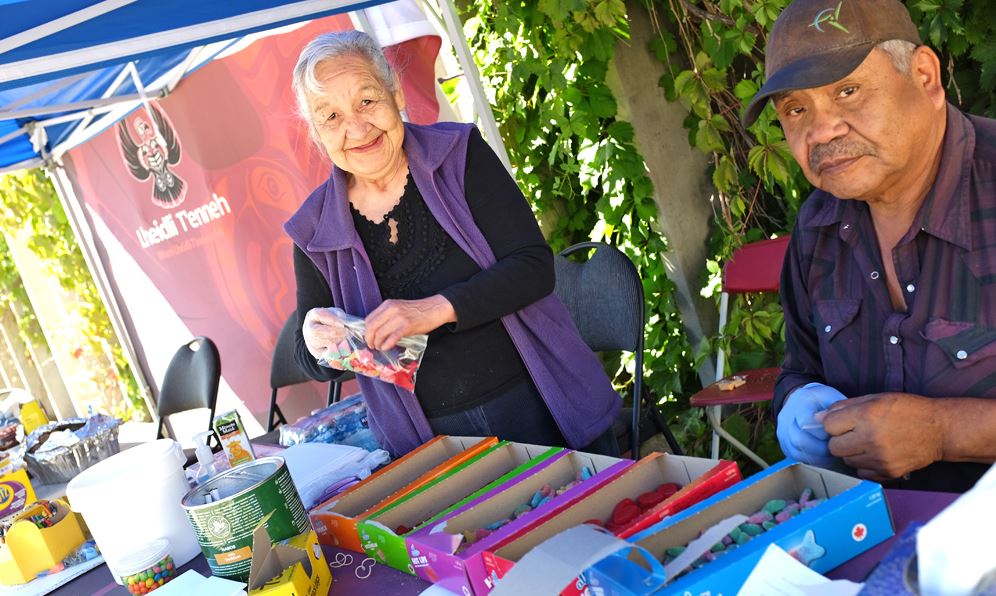 They've been in the Lheidli T'enneh tent, which was set up in CNC's front courtyard soon after the emergency reception centre was set up. Their presence is akin to being Host First Nation, providing support and a cultural connection for many of the evacuees. Lheidli T'enneh members have donated food and offered rides to get groceries or attend medical appointments. There is also an Elders' room in the College where evacuees gather, make traditional food, and participate in arts and crafts.
Elder Darlene McIntosh also hosts a daily smudge for evacuees:
CAMPGROUND CARE
Much of the focus of the evacuation effort has been at the College of New Caledonia. 10,000 evacuees have now registered and received services from the College. As the weeks have worn on, thousands of people have left campus and set up campus elsewhere in the city.
When the fires began, Wendy South of the West Lake Campground and RV Park provided free spaces for evacuees. Now, the park is home to about 60 people from an Aboriginal community north of Williams Lake. According to Wendy, the outpouring of support for the evacuees from the community, both in the West Lake and Prince George area, has been overwhelming.
"When evacuees arrived in tents, three trailers and two motor homes were donated. The owners even drop by frequently to replenish propane, diesel, and water. And then on Saturday, a band, 12 Gauge Rock'n Country, showed up to perform and entertain," says South. "That's not all. Residents arrive every day with food and other donations, and have even hosted community barbecues at the campground.
"I know I've made friendships in the past few weeks that will stay with me for a very long time."
Evacuees are eligible for financial assistance for lodging at private campgrounds. On Friday, the City worked with evacuees staying in RVs on City property to consolidate them at the parking lot between the Aquatic Centre and the Exhibition Park soccer fields along George Paul Lane. This move was made to better provide evacuees with services, such as water and sewer.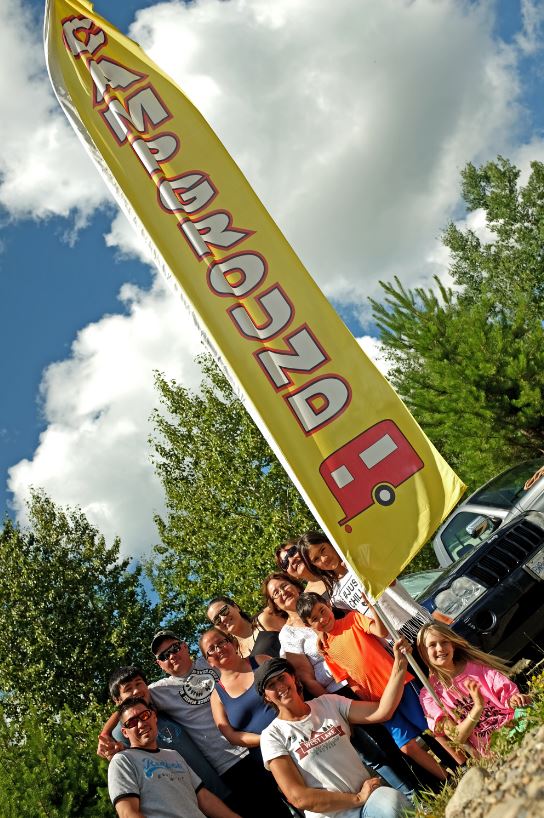 TOWN HALL TONIGHT
An update on the Cariboo wildfires will headline a town hall meeting tonight, which will be hosted at the UNBC Canfor Theatre.
The event begins at 5 PM and will be webcasted.