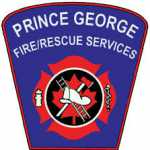 Prince George Fire Rescue put out a fire on the 1900 block of Upland Street early Monday morning.
Around 4:10 AM, crews from three halls arrived to find an older class "A" Winnebago Motorhome fully engulfed and flames spreading to the nearby structure.
Firefighters quickly knocked down the fire and contained it to the right wall of the structure's exterior. The structure suffered was "light charring" and smoke damage.
Luckily, no one was home at the time and there were no injuries to any firefighters.
Fire Rescue is still investigating the cause of the fire, and estimate damages cost about $35,000.00.