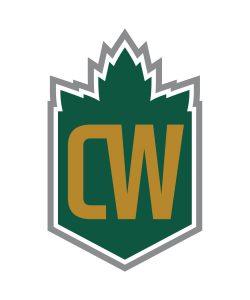 The UNBC Timberwolves are now part of Canadian College athletics history as of Wednesday.
Canada West (CW) has unveiled its new look, website, and stream service provider in time for the upcoming 2017-18 season.
The new logo will be displayed on uniforms and in gymnasiums across Western Canada with each of the 17 school's corresponding colour schemes, including UNBC.
Spokesperson Adrienne Healey says CW's goal is to capture the conference's rich history.
"Canada West has always been committed to providing an outstanding student-athlete experience, as our members work to prepare young people to be champions on the field of play and leaders in their communities. We are looking to the future in better showcasing our student-athletes in the digital world."
Edmonton-based Artslinger designed the new identity, marking the second time CW has partnered with the graphic design firm, after developing the Hardy Cup logo in 2015, Canada West's football championship game.
Owner Curtis Ogrodiuk is looking forward to seeing the new design take off.
"Canada West understands the importance of a brand and the strategies for marketing it. They were very involved in the conceptualization of the new brand and we could not have come up with the mark we did without their involvement."
We have more than just a new logo. We've relaunched https://t.co/3SnPfApv15 with a great new look and user friendly features. #TheNewWest pic.twitter.com/sn9QrQ2qgD

— Canada West (@CanadaWest) August 16, 2017
Over 1,100 events will be live-streamed on a revised website, thanks to a new agreement with Presto Sports, with an additional app for both Apple and Android users.
This is the first change to the CW brand in 14 years.
VIDEO: