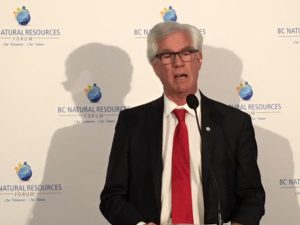 Federal Natural Resources Minister Jim Carr has announced multi-million dollar funding to promote innovation and diversification in forestry and support collaboration with Indigenous communities at the 15th annual BC Natural Resources Forum.
In total, $6.45 million will help fund six projects in British Columbia delivering on the Investments in Canada's Forst Industry Transformation program and the Indigenous Forestry Initiative.
"It's going to mean diversification, it's going to mean transition from traditional ways of doing things, and there are companies here who understand that and who are worthy of support from the government of Canada and we're glad to provide them with that support," Carr explains.
"It means good jobs and it means preparing for the future of the industry that's so important for Canada."
.@jimcarr_wpg announces $6.45 million in funding for six projects in BC's forest sector

— My Prince George Now (@mypgnow) January 17, 2018
Pacific Bioenergy Prince George Limited Partnership receives the highest funding amount at $3.19 million. It will help to implement a Biomass Enhancement System allowing for the use of diverse sources of biomass to produce high-quality wood pellets at its Prince George pellet processing facility.
Structurecraft Builders Inc. takes $1.93 million for a Dowel Laminated Timber production system at a newly constructed facility which will house new machinery and associated storing and handling systems. It does not require glue or nails and will help with the demand for green construction.
The Tsay Keh Dene CHP Biomass Energy project will be given $25,000 to assess the feasibility of bioenergy to reduce the reliance of the Tsay Key Dene community on diesel fuel for heat.
Gitxsan Development brings home $1.165 million to implement a series of scans and activities to lay the foundation for the Gitxsan people to participate and benefit from major resource projects within, and near, their territory.
The Kwadacha First Nation receives $143,000 for two projects. The first is to support a community combined heat and power bioenergy system; $98,000 will go towards that. The other $45,000 will go into a review and to prepare a report of their experiences and lessons learned from a successful green-energy initiative in the community that uses local beetle-killed lumber to fuel a bioenergy plant for the generation of electricity and heat.
Innovation helps address climate change, creates opportunities for the forest industry and supports middle-class jobs for Canadians pic.twitter.com/V6iPwBnQ0i

— Natural Resources (@NRCan) January 17, 2018