BC's mining industry launched their 2018 Mining for Miracles campaign for the BC Children's Hospital yesterday.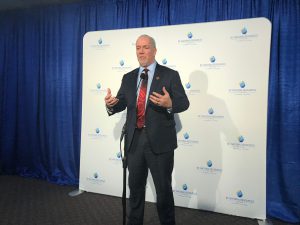 All the money from the fundraiser will go to completing the Transplantation and Cell Therapy Program (TRACE), the first of its kind in Canada.
Premier John Horgan was in attendance to launch this years campaign and recognized the importance of this program for northerners.
"I encourage people to pay attention to Mining for Miracles, to pay attention to young people in the community that need to get services outside of the north and have to travel to parts of the province. Obviously government has a responsibility and obligation to meet healthcare."
When completed the TRACE program will:
Help 40-50 children with kidney transplants each year, extending transplant function.
Help 250 children living with organ and bone marrow transplant in BC, by replacing invasive biopsies with innovated blood and urine screening tests, reducing pain and decreasing risk of organ rejection.
Provide a new form of treatment for children with relapsed leukaemia that has been effective in over 90% of cases in clinical trials.
Position BC Children's Hospital as a leader in clinical cell therapies, transplantation and research into new treatments for cancer and diabetes.
Mining for Miracles Co-Chair Jeff Hanman says hundreds of children will benefit from this program.
"Once built this is going to provide patients in British Columbia with a clinical self therapy program, which will use patients own cells to fight cancer and other serious illnesses. So for oncology patients it's just going to be huge."
The campaign is hoping to have all the money raised by May of this year.