Conservative MP Bob Zimmer says he agrees with Premier John Horgan on trying to expand the natural resource sector in BC.
Today the BC Natural Resource Forum wrapped up in Prince George, which saw an abundance of speakers from all political parties come to the northern capital to talk about the future of the sector.
At the forum, the premier stated its been a hard year for lumber, something Bob Zimmer concurs with.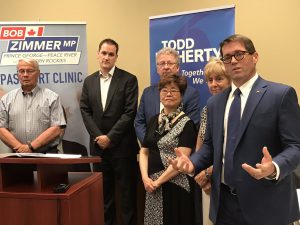 "We have the wood in the north we just have to figure out a way to get it milled in the north and get the jobs in the north. So I agree it's a tough spot, it's doing okay, but we need to make sure, especially with free trade agreements and softwood lumber agreements etcetera, that we continue to government anyway to keep those gates opened."
Zimmer added he understands the tariffs that were put onto Canadian lumber has caused concern for Northern BC, and that the province will continue to be competitive against the states.
Creating a stronger relationship with First Nations was another topic that stood out for Zimmer, he says conversations like this need to occur more often.
"Chief Perry Bellegarde and his statement about working together and having relationships and affirming his community wants to develop natural resources, but they just want to be involved in the process. A lot of us couldn't agree more and it's just good to have a positive conversation around it and hopefully more will come from that."