Students who identify as LGBTQ can now feel safer in their schools.
SD57 approved revisions to its Sexual Orientation Gender Identity(SOGI) after holding a consultation last summer on how the policy should be shaped.
Vice-Chairperson Trish Perrin says this issue dates back all the way to the previous board.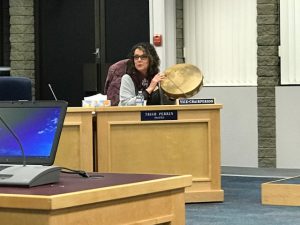 "The January, probably, 2012 public board meeting it was right after the municipal election of 2011 and we had the gallery here(SD57) at a public meeting filled with people that came and told us their story on why we needed a stand alone policy."
It took the board about 18 months before they had the motion approved to draft a policy to consider, and it took a couple more changes before it could be ready for approval.
This now means the board of education is committed to establishing and maintaining a safe and positive environment for students who self-identify as LGBTQ.
Perrin says this is a unique policy.
"It wasn't covered under the anti-bullying policies and the student code of conduct policies, after a lot of research and looking into it there are very unique circumstances around bullying that takes place. This now says you have the right to feel safe."
This policy includes staff members to be provided with training and other resources so they are informed about human rights, ant-homophobia, discrimination, cultural diversity and harassment.
Perrin added she's proud of the work the district has done to create this policy.