SD57 has approved recommendation to both cap the amount of kindergarten enrolments at four schools and to restrict to catchment area students only for schools in the 2018-2019 year.
Kindergarten Schools effected by the approved cap are:
College Heights Elementary – French Immersion program, no more than 40 students
Spruceland Traditional Elementary, no more than 40 students
Polaris Montessori Elementary, No more than 40 students
Ecole Lac des Bois, no more than 60 students.
Kindergarten registration started yesterday and parents who want their kids in those school should start registering for the new year of school.
Schools restricted to catchment area students only are as followed:
Malaspina Elementary
Southridge Elementary
College Heights Secondary
Heritage Elementary
Glenview Elementary
Hart Highlands Elementary
Springwood Elementary
Edgewood Elementary
Duchess Park Secondary
Current students of those schools who aren't living in the same area will not have to worry about switching, because board policy shows if a student is currently enrolled they will remain a student.
There was one matter at the SD57 board meeting that sparked a debate and that was in regards to a recommendation to develop a plan for Education Programs and Capacity of schools for the 2019-2020 school year.
The Education Services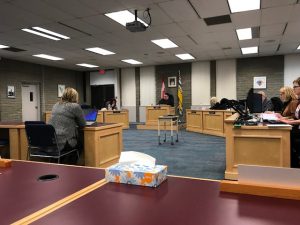 Committee requested the Superintendent review the recommendations put forward by both the Catchment and Capacity Advisory Committee and the Ad Hoc Committee, to obtain feedback on the future enrolments for the upcoming school year.
chairperson Tim Bennett says he wanted the recommendations to be passed, but understands the importance of having the right data.
"While there was debate for and against tonight, I think the one the board is very united on is wanting to insure that it is an extensive consultation process and that parents in the community have a say as to what are our schools going to look like 2019 and beyond."
Once a more prepared recommendation is made by the Education Services Committee the board will have a chance to thoroughly review it and approve any changes.