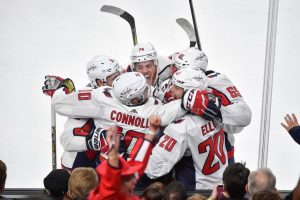 Prince George is expected to gather by the hundreds on August 20th for when hockey's holy grail rolls into the City.
Brett Connolly of the Stanley Cup-champion Washington Capitals and the Prince George Cougars, the main organizers of the upcoming celebrations, have released more details, all of which will be taking place inside the CN Centre.
According to the team, fans will have the opportunity to take their picture with Connolly and the Cup after a short rally at ice level, where PG Minor Hockey players will be invited to a 'kids only' section in front of the stage.
In a statement, Connolly says having the minor hockey community involved is very important to him.
"Prince George has left an indelible mark on my career, from playing PG minor hockey to playing for the Cougars and being drafted into the NHL. This is my chance to repay everyone that has helped me along the way."
The celebration is also acting as a fundraiser for the Brock Hirsche Memorial Scholarship Fund at the University of Lethbridge, where Hirsche played for the final three seasons of his hockey career.
The 26-year-old passed away in April, succumbing to his battle with testicular cancer.
The proceeds from several silent auctions and raffles will go towards the fund and prizes include two VIP backstage experiences, Brett Connolly and Washington Capitals-autographed memorabilia.
Local residents can start bidding this Monday, July 16th, closing on Friday, August 17th.
The CN Centre will open at 10AM; the rally begins at 12PM.
NEWS: Plans unveiled for @bconnolly8's Stanley Cup Celebration in Prince George. DETAILS: https://t.co/ZfOHwJBflh pic.twitter.com/3LPZCzAm0q

— PG Cougars (@PGCougars) July 13, 2018
WATCH: