One month from today on August 20th, the Stanley Cup will be in the building … CN Centre that is.
Brett Connolly of Prince George, who helped the Washington Capitals to their first title six-and-a-half weeks ago, gets his turn with the Cup and will bring it home for a one-day celebration.
"There is already a ton of buzz around the city, and all my buddies are so excited and my parents are excited, and I have a lot of family flying in from all over. It's definitely very exciting in a place that definitely means a lot to me," said the 26-year-old Connolly in an interview this week with MyPrinceGeorgeNow.com.
"There has been so much support and I'm really going there with an open mind and try to share it with as many people as I can because it is a big deal."
The celebration, which is free to the public, will begin at noon on Monday, August 20th, inside the CN Centre.
Thank you for everything, DC. You deserve this. pic.twitter.com/YLsiuVTwSS

— Brett Connolly (@bconnolly8) June 16, 2018
Some fans will have an opportunity to get their picture taken with Connolly and the Cup after a rally at ice level.
"I have a really good group of friends both in Prince George and Toronto, where I live now. Those people are more excited than I am. It will be very fun to share that."
The PG Minor Hockey product and former Cariboo and Prince George Cougar set up the winning goal in the Capitals season-ending 4-3 come-from-behind Game Five victory over the Vegas Golden Knights.
The euphoria of winning hockey's holy grail, which has a tradition that dates back 124 years, is a lifetime memory.
"Now that everything's settled you get to go home and reflect on a lot of the good memories and go through pictures and videos remembering how special of a moment that really is. It's something you dream about your whole life, to be somebody who gets their name on that cup," added Connolly.
"It's a great feeling and something I'll never forget. I was very fortunate to be part of a great group and team."
At the Prince George Stanley Cup celebration, fans will have an opportunity to win two VIP backstage experiences and numerous Connolly and Capitals autographed memorabilia, through silent auctions and raffles.
. @bconnolly8 is here to tell you about the VIP Backstage Experience you could win on August 20th! Bid ➡https://t.co/7ru1C9khYt#WHL #CityofPG pic.twitter.com/BQCzzJeiEN

— PG Cougars (@PGCougars) July 17, 2018
All proceeds from the silent auctions and raffles will go to the Brock Hirsche Memorial Scholarship Fund at the University of Lethbridge.
Hirsche is a former PG Cougar captain who lost his battle with cancer this year.
"He was a good friend. We were 16-years-old when we came into junior together. He was at my house a bunch of times. I was at his billets all the time. I've invited his parents to Prince George and they are going to have all access to the whole day. What a great thing he did before he passed, to start something like that. I'm just trying to raise as much money as I can. Every penny that is raised is going to his Foundation."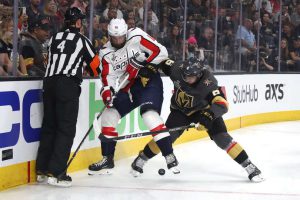 Connolly played in all 24 of the Washington post-season games this year and put up six goals and three assists while playing on the third line.
A year ago, he was a second-round healthy scratch in the playoffs.
"For whatever reason, you get bumped out of the lineup whether you agree with it or not, and then this year we lost a couple of guys and I got to play a better role. For me the most special part is that I contributed. That's something that nobody will ever be able to take away from me."
The Capitals will have a new coach as Barry Trotz left for the bigger bucks with the New York Islanders where he signed a long-term deal to be their bench boss (estimated $20 million over five years).
Washington promoted Top assistant Todd Reirden to take over.
"I'm really close with Todd. I think he is a guy that was in my corner for the last two seasons. I've voiced my opinion that I want to raise my ice time and my responsibility on this team."
Connolly has five full-time NHL seasons under his belt (109 points, including 57 goals in 346 regular season games).
However his career goes from here, Connolly will always be in select company, one of nearly 1,200 NHL players that have achieved the ultimate of winning Lord Stanley's Mug.
WATCH:
FROM THE QUOTE RACK:
When LeBron hosted, he made fun of me too. I'd say we're even. JR Smith would say, 'We're up by one!'
*ESPY host Danica Patrick, after taking some digs at LeBron James.
President Trump arrived in England last week and he was greeted by hundreds of angry protesters. Of course, it didn't help that Trump arrived in England wearing a Croatian soccer jersey.
*Conan O'Brien of TBS
France won the World Cup and they were led by a 19-year-old prodigy named Kylian Mbappe. After the game, Mbappe said winning the World Cup totally makes up for being named after a Hanson song.
*Tonight Show host Jimmy Fallon
England not only lost to 2-1 Croatia in the semifinals, but the team was fined $70,000 for wearing
"unauthorized socks." Since when has Roger Goodell been in charge of the World Cup?
*Dwight Perry of the Seattle Times http://www.seattletimes.com/author/dwight-perry/
After their loss to Croatia, England was fined $70K after players wore 'unauthorized socks.' This is FIFA's way of showing they are real football?
*Comedy writer Janice Hough of Palo Alto, California www.leftcoastsportsbabe.com
Several former NFL stars have joined a professional flag football league. It will be just like the NFL in the fact there is guaranteed to be a flag thrown on every play.
*Comedy writer Jim Barach http://jokesbyjim.blogspot.ca/
IN CASE YOU MISSED IT:
Bulgaria agreed to spare Penka the cow after plans to kill her for crossing European borders without paperwork sparked a global outcry. That's throwing oneself on the mercy of udders.
*Comedy writer RJ Currie www.Sportsdeke.com 
————————————————————————————————————————————————
Hartley Miller is the sports director and morning news anchor for 94.3 the GOAT.
He also is the 94.3 radio color commentator for P.G. Cougars home games.
His column appears Fridays on myprincegeorgenow.com.
Send along a quote, note, or anecdote to [email protected].
Follow him on Twitter: @Hartley_Miller