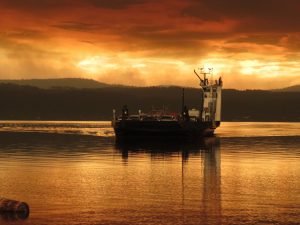 Almost 30 trucks of firefighting supplies have been denied access across the ferry to the Southside of Francois Lake.
Two fires, Nadina Lake and Verdun Mountain, continue to burn at a combined 112,000 hectares in size, and roughly 100 residents of the area have stayed behind despite an evacuation order issued over a week ago.
The area is known as the Southside, due to its location along Francois Lake.
According to a source at the scene, 28 supply trucks waiting to cross the ferry from the north shore to the south bank were given their "marching orders" this afternoon.
The trucks, some of which were from a company called Safeguard, were formerly deployed fighting fires in Fort St. James and had been waiting to cross the lake for two days.
They now have until tomorrow morning to leave the area.
Kent Gerow, creator of the Cariboo Wildfires Information and Safety Page on Facebook, said the trucks carried over $10 million worth of equipment including pumps, hose fittings and sprinklers.
Multiple people connected to the area have expressed their frustration with the lack of support from the provincial government, regional district and the BC Wildfire Service.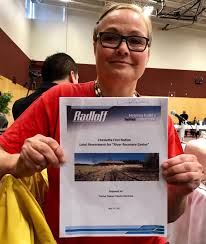 Chief Corinna Leween from the Cheslatta Nation explains BC Wildfire had communicated water supply as a factor in the trucks being denied access.
"They said there's not enough water? We're called the Lakes District, that means 3000 miles of lakes are surrounding us," she said.
"We've got people here from Alberta that want to help, they're coming here, they're trying to help and they're not allowed to."
She said even without aid, residents are working hard to save their "land and livelihoods."
"These people are over there fighting tooth and nail, 15 hours or more a day with shovels in hand. We need to get some more attention to this fire. This is the beast of all beasts, it's the worst fire the fighters have ever seen."
According to Leween, policy and paperwork is resulting in a situation where people's lives are "in jeopardy."
"It's going to be so bad that it's going to kill those people."
We've reached out to the BC Wildfire Service on the trucks being denied access across the lake.
This article will be updated once that response is received.
– with files from Cole Bennett, My Campbell River Now
###
For more evacuee information, you can click here.
For more information on all the current wildfires in the Northwest and Prince George Fire Centres, you can click here.