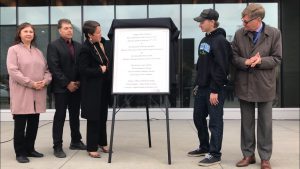 The College of New Caledonia has officially opened its new heavy mechanical trades facility.
The new building can fit 251 full-time-equivalent space, and up to 48 new spaces, in the heavy-duty equipment technician and truck and transport mechanics program.
Minister of Advanced Education, Skills, and Training Melanie Mark says this will help bring students to the north.
"There are 903,000 jobs available in the construction trades so it's imperative that we're investing in the trades," she explains, saying people need the opportunity to be educated for these jobs.
"We know that people need to have the training for what the jobs are for today."
Thrilled to have Hon. Melanie Mark at CNC for the official opening of our Heavy Mechanical Trades Training facility. @melaniejmark @BCGovNews pic.twitter.com/2kQY3O51E3

— College of New Caledonia (CNC) (@cnc_bc_ca) September 17, 2018
The facility was constructed to a LEED Gold building standard, with a net-zero increase in energy consumption and greenhouse gas emissions. It is also 75-percent larger than the previous area. It will not just help CNC though, according to Dean of Trades and Technologies Frank Rossi, but local industry as well.
"As we all know with the looming skill shortage, it will allow us to train more students that will transition from our classrooms, our shops, and into industry," he says.
"Heavy mechanical trades touches on a lot of the natural resource programs that we have in the north like mining, natural gas, and forestry."
The $18.5-million facility was funded by the Province of BC ($10.1-million), Government of Canada ($6.9-million), and CNC ($1.5-million). Construction started in early 2017.