Cummings Road Regional Transfer Station Upgrades
Cummings Road Regional Transfer Station is being upgraded and will be temporarily closed during construction, starting June 1, 2021.
The transfer station infrastructure is outdated and can no longer accommodate the demands residents put on the site. The construction upgrades will expand the site to provide better traffic flow, more recycling opportunities, and improved site safety for customers, waste/recycling haulers and onsite staff.

Improvements will include:
Newly designed entrance for all site users
Increased number of waste bins for:

Clean wood waste
Yard and garden waste

Expanded recycling area for:

Multi material recycling
(mixed paper, cardboard and carton and containers)
Tires
Scrap metal
Major appliances (excluding fridges and freezers) New!
Used oil and antifreeze New!

Electric fence for wildlife control
During the temporary closure of the site residents are asked to proceed to either Shelley Regional Transfer Station at 2075 Shelley Road North or Foothills Boulevard Regional Landfill at 6595 Landfill Road. Regional District staff will monitor the additional pressure this will have on the alternate facilities and make adjustments as needed to accommodate the increased volume.
Visit rdffg.bc.ca for more information and updates on this project.
---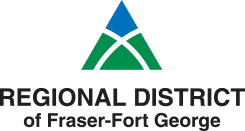 Regional District of Fraser-Fort George
155 George St.
Prince George, BC V2L 1P8
Toll Free (BC): 1-800-667-1959
Phone: (250) 960-4400
Fax: (250) 563-7520
E-mail: [email protected]
Web Site: www.rdffg.bc.ca
---