The fall out continues from Wednesday morning's arson at Spruce City Stadium, which led to the loss of the structure's kitchen and concession along with the equipment that controls the score clock and lightning.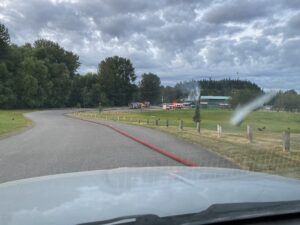 The matter is under investigation and the damage is estimated at 100-thousand dollars according to emergency crews.
Spruce City Men's Fastball League board member, Randy Potskin told MyPGNow.com the blaze might also cause a premature end to their season.
"Unfortunately, it has a huge effect (the fire). Being into August now, we usually have two games at night at 7:00 and 8:30 but going forward, I don't think we can anymore because we won't have lights for a little bit until we can figure out a way to by-pass the power so we can actually have lights and a score clock."
However, the Prince George Youth Baseball Association has offered Rotary Field as a temporary solution – something Potskin appreciates.
"It is currently set up as a facility you can play fastball in but we run into the same problem. No concession and no score clock or announcer booth. We can work around the concession in the meantime so we can still play in our park but we probably won't know until next week if we can still play in our park or not."
Potskin noted the facility's kitchen/concession area is the bread and butter of the local fastball league's success.
"It helps us pay our umpires, our lights, balls and maintenance costs. It's a vital part of our league running. Now that we don't have a concession, it's certainly going to hurt the league going forward."
Simply put, Potskin would like the concession along with the equipment that controls the lightning and scoreboard to be replaced by next season – if not sooner.
"It's important to our league, it's important to our tournaments and it has a lot of history for sure. I know that there is a lot of upset and sad people when they heard the news. Hopefully, we can rebuild to make it bigger and better."
The Prince George RCMP noted the concession was last attended by city staff around 4:00 p.m. on August 2nd.
In addition, Cpl. Jennifer Cooper stated to MyPGNow.com yesterday (Thursday), the suspects stole two large Bluetooth speakers that were stored inside the concession.
Police are now asking the public to come forward if they have any knowledge of who may have stolen the speakers or started the fire
Spruce City Stadium was the sight of last weekend's Canadian Native Fastball Championships.