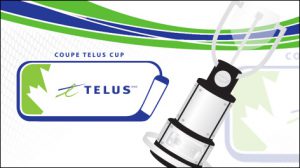 With the 2017 Telus Cup just days away, the Cougars 50/50 Society have decided to help out the organizing committee, as well as the host team.
Prince George handed out two separate cheques with a total value of $60,000; the Telus Cup committee will receive $20,000, while WHL team's affiliate club, the Cariboo Cougars, will get a funding boost of $40,000.
Telus Cup Co-Chair John Morrison says the money will go towards final preparations and hospitality costs for the six participating teams.
"Everything from the bus, to the food, to the rooms, to their entertainment; everything is it is done by us here. So we've done a great job with the people in Prince George."
.@PGCougars Society donating $20,000 to 2017 #TelusCup #CityOfPG @mypgnow pic.twitter.com/ypADaKRbFA

— Kyle Balzer (@KyleBalzer) April 21, 2017
While he's grateful for the assistance of the Cougars Society, Morrison adds a National championship, such as this one, can cost as much as $450,000.
"Our expenses are so high, be it volunteer costs, or the costs associated to the players because the moment they get off of that plane until the moment they get back on that plane, it's on our dime on this tournament."
Cariboo Cougars Head Coach and General Manager Trevor Sprague is beyond excited for his parent club's $40,000 donation, which he says will go towards travel costs.
"A lot of this goes right to the Mac's Tournament; it's a little bit of relief for the parents where they don't have to worry about the hotel or food or travel or any of that."
.@PGCougars donate $40,000 to @cariboocougars; continuing support for affiliate club after @BCHockey_MML title #CityOfPG @mypgnow pic.twitter.com/IBFwq9NiKb

— Kyle Balzer (@KyleBalzer) April 21, 2017
Sprague is now looking ahead to competing for the Telus Cup both as host and the BC Major Midget League (BCMML) champions.
He says he looks forward to the challenge of winning on home ice.
"We don't come here to lose, that's for sure! All 6 games we're going to have here are going to be exciting and fast-paced hockey. Win or lose, it's going to be exciting for Prince George and the North to watch the hockey that we're going to play."
The 2017 Telus Cup begins on Monday, April 24th; the Major Midget Cats' first game takes place in the evening, 7:30PM against the Alberta-champion Leduc Oil Kings.
.@cariboocougars Head Coach Trevor Sprague (middle) says $40k will go towards @MacsTournament; help parents, families get to event @mypgnow pic.twitter.com/Qd2PwYQgRT

— Kyle Balzer (@KyleBalzer) April 21, 2017