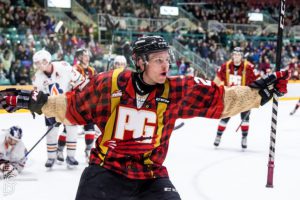 What do Jared Bethune, Aaron Boyd, Brogan O'Brien, Josh Curtis, Josh Maser, Jackson Leppard, Joel Lakusta, and Ryan Schoettler have in common?
They are the only eight players left on the 2017-18 Prince George Cougars team that were on the roster at the end of the 2016-17 season.
Call it … sell, sell, sell.
Call it … a complete makeover, an overhaul, a full rebuild, a transition.
Whatever term you want, that's what the Cougars did.
In a 10-day period this month, they gutted their team and officially started to look beyond this season by completing half-a-dozen deals.
The Cougars are prepared to accept short term pain with the intent of long term gain.
Whether one agrees with the moves to deal top-end players like Dennis Cholowski, Kody McDonald, and Josh Anderson or not, at least the Cougars took a firm direction going "all in" for a youth movement, instead of a lukewarm attempt.
Half of the Cougars roster today consists of players 17 years of age and younger, with four of them being 16.
There are only three 19-year-olds left (Lakusta, Curtis, Tavin Grant) to go along with the three over age players (Bethune, O'Brien, Boyd).
Cholowski was their best player, while McDonald and Anderson were in their fourth season with the team.
At the start of the year, with Cholowski, the Detroit Red Wings 2016 first-round draft pick joining the team, there was optimism of the Cougars being a middle of the pack team, but the standings have showed otherwise.
Why stand pat, when realistically the team would either miss the playoffs or make an early first round exit?
Currently, they are six points behind Spokane, the team that holds the final Western Conference wild-card spot.
I realize there are fans that bought tickets for this season who wanted to see Cholowski, McDonald, and Anderson remain, but perhaps some of that disappointment fades on nights like Wednesday, when the new look Cougars (with a line-up of an average age of just over 17.5) rallied for the 4-3 OT win over Vancouver, thanks to the four goals from 18-year-old Josh Maser.
.@joshmaser88 makes it a ??? night, boosting @PGCougars into a 3-2 against @WHLGiants at 17:55 of the final frame | #CityOfPG #Sports @mypgnow pic.twitter.com/IRGvZlSyPr

— Kyle Balzer (@KyleBalzer) January 11, 2018
Cougars General Manager Todd Harkins, (in the final season of a four-year deal he signed in 2014) is trying to earn a new contract.
He took advantage of a sellers market, acquiring assets, bantam picks and prospects, but the pressure will be on the scouting staff, which he is part of, to deliver and get the team back to where it was a year ago when the Cougars won the BC Division.
While Anderson is a physical presence that any team would love to have, how do you turn down two first round bantam picks for him (which is what Swift Current gave up)?
Harkins naturally believes he has set up the Cougars to be a contender by the 2019-20 season and beyond.
The Cougars have two first round, two second round and two third round bantam draft picks for each of the next three years.
Will ownership think that's enough, in addition to his body of work since taking over the job, to earn him that coveted job extension?
Meanwhile, the 49-year-old Harkins was quite candid during a radio interview on 94.3 the GOAT, in admitting there was pressure to trade his 17-year-old son Jonas, who was sent to Regina in a multi-player deal.
"He (Jonas) has Newport Sports as his agency, the same agency that Jansen (Harkins) has, and they were a little bit concerned. One, they told me not to draft him, so that was one strike against me, and again, it came down to a lot of different factors when we drafted him with a lot of people on our staff watching him play and we took that chance on him. Then it goes down to his development curve and where he's at in being a young player; he wasn't playing much at the start, he got a couple of injuries, his ice time was limited, and it was hard for him to get back into the line-up, so Newport was very concerned and they wanted him out of here," said Harkins.
"I have to listen to the agents like I do with any player; not just the player's agency, but I also have to listen to the parents as well, and my wife was in my ear for quite a bit on that as well."
Jonas gets a fresh start in trying to earn ice time on a Pats team that will host the 2018 Memorial Cup.
"Around our dinner table, it was a tough day because we were losing our youngest boy, but we knew this was the best thing moving forward and to get him away from the situation. Now I'm just his dad, not his general manager anymore, and that's all I want to be right now. They're all gone now, and that's been the hardest thing to go through in my life," stated Harkins.
"Being the manager of my kids and not having my kids speak to me because of that was really hard. Hiding from teammates and being involved in situations like that on and off the ice, it was a really tough job. I'm just glad now that it's over with and I can focus on being a dad for my two boys, and Nicholas (his other son) of course, and also focus on running the Cougars, and doing the best job I can as its general manager."
.@PGCougars' GM Todd Harkins (@cougsgmharks) says he's looking forward to seeing newly acquired #Portland players Ilijah Colina & Connor Bowie in action; sums up team's moves at #WHLTradeDeadline | #CityOfPG #Sports @mypgnow pic.twitter.com/2WEK6vp3BJ

— Kyle Balzer (@KyleBalzer) January 11, 2018
The Cougars also dealt Steve O'Rourke's (Associate Coach) son Ethan to Everett, leaving no impression, fair or otherwise, of any favoritism.
The January 10th trade deadline comes with plenty of emotion and upheaval.
Many of the buyers will be knocked out in the first round, something that happened to the Cougars last year.
Whether a team buys, sells or keeps the roster intact, it's a gamble.
Everyone is looking to be the best of the 22 teams and ultimately win a championship.
Until that happens, patience (a word often overused) is the key for fans, players, coaches and all aspects of the team.
###
COUGARS' 2018 DEADLINE TRADES:
JANUARY 10TH
Cougars send Dennis Cholowski (19) and the playing rights to Vernon Vipers goalie Ty Taylor (18) to the Portland Winterhawks.
In return, the Cougars acquired five WHL Bantam draft picks (a first in 2020, seconds in 2018 and 2019, a third in 2020 and a conditional sixth in 2019) plus forward Ilijah Colina (17) and prospect forward Connor Bowie (16).
JANUARY 9TH
Cougars acquired defenceman Cameron MacPhee (18) from the Medicine Hat Tigers in return for a seventh-round pick in the 2018 Bantam Draft.
JANUARY 7TH
Cougars traded defenceman Josh Anderson (19) to the Swift Current Broncos in return for a pair of first round picks in the Bantam Draft, one this year and another in 2019.
JANUARY 6TH
Cougars sent forward Kody McDonald (19) and a conditional fourth-round pick to the Prince Albert Raiders in return for a first-round Bantam Draft pick this year, plus defenceman Rhett Rhinehart (16) and defenceman Austin Crossley (18).
JANUARY 5TH
Cougars traded the playing rights of forward Jesse Gabrielle (20) and defenceman Jonas Harkins (17) to the Regina Pats in return for forward Kjell Kjemhus (16), prospect defenceman Ethan McColm (15) plus a third round and fifth round pick in the 2018 Bantam Draft.
JANUARY 1ST
Cougars dealt forward Ethan O'Rourke (18) to the Everett Silvertips in exchange for forward Ethan Browne (16).
WATCH:
FROM THE QUOTE RACK:
Packers QB Aaron Rodgers and race-car driver Danica Patrick were reportedly spotted out on a date at a Green Bay restaurant.  Either that or they were just discussing the finer points of two-minute drives.
*Dwight Perry of the Seattle Times http://www.seattletimes.com/author/dwight-perry/
If Colin Kaepernick goes ahead with his collusion trial he can put game tape of the Buffalo Bills-Jacksonville Jaguars playoff game as Exhibit One.
*Comedy writer Janice Hough of Palo Alto, California www.leftcoastsportsbabe.com
A report says Papa John's Pizza may not buy ad time for the Super Bowl. Apparently the company just doesn't have enough dough.
*Comedy writer Jim Barach of WCHS-TV in Charleston, W.Va., http://jokesbyjim.blogspot.ca/
The Las Vegas Knights are the most successful first year team in the history of all major sports. Their home record is an astonishing 18-2-1. Are they really that good, or does the policy of having the visiting team partake in the "two drink minimum" have anything to do with this?
*Comedy writer TC Chong of Vancouver
IN CASE YOU MISSED IT:
Sharks forward Joe Thornton lost a fistful of his beard in a tussle with Toronto's Nazem Kadri. The game ended in a shootout, as the Leafs took it by a whisker.
*Comedy writer RJ Currie www.Sportsdeke.com
—————————————————————————————————————————————————————————-
Hartley Miller is the sports director and morning news anchor for 94.3 the Goat.
He also is the 94.3 radio color commentator for P.G. Cougars home games.
His column appears Fridays on myprincegeorgenow.com.
Send along a quote, note, or anecdote to [email protected]
Follow him on twitter: @Hartley_Miller